Understanding how private energy development projects and public improvement projects affect your land may seem like an overwhelming task. However, Vanguard's knowledgeable land acquisition team is committed to providing education and outreach, ensuring that you understand exactly what to expect at each stage of the project.
Vanguard, in conjunction with its clients, acquires land rights for various projects, all of which benefit the public directly and/or indirectly. Most of Vanguard's projects focus on developing infrastructure for renewable energy (wind or solar), natural gas, electric transmission, transportation, or telecommunications.
Every project, regardless of type, arises because there is a public need. For example, farmers in one part of Nebraska used to experience brownouts during the summer. These brownouts were caused by an increased use of energy for irrigation. Due to limited electric capacity, farmers could not irrigate more than three days per week. In response, an electric transmission line was constructed which brought additional electricity to the area, allowing farmers to irrigate their land as needed.
Not too many years ago, telecommunication towers began appearing for the first time. Today, we enjoy the amazing ability to communicate effortlessly with our cell phones, tablets, and even our watches. This luxury was made possible by the development of a nationwide network of telecommunication lines and towers.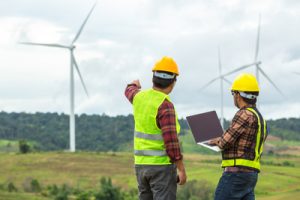 Once a need is determined, planning comes to the forefront in the form of project design. Engineers are tasked with evaluating the need and devising a solution. After considering multiple factors, routes or sites are selected. This is when Vanguard's land acquisition team begins its work in your community, providing outreach and education to landowners and other stakeholders. In order to acquire the land rights necessary for project development, Vanguard's land acquisition team works with landowners to establish agreements. We are always open to discussing your concerns and helping you evaluate your options.
We look forward to working with you
Please fill out and submit the form below if: